Burnaby Lake BioBlitz 2010

To celebrate the International Year of Biodiversity, Burnaby Lake's first BioBlitz was held on May 16th, 2010. "This was a great success, with over 300 participants!" said event organizer Stella Ramey. "There were lots of activities for the participants, with pond dipping, bug hunting, guided plant walks, nature journaling workshops and lots more."
As well as the public activities led by park interpreters, dedicated volunteer experts from SFU, UBC, the Stanley Park Ecology Society, Wildlife Rescue Association and other organizations attempted to find and count as many species as possible during the event. Experts looked for birds, fish, lichens, plants, fungi, slime moulds, amphibians, reptiles, mammals and anything else alive. With the exception of some nocturnal owl searchers and early morning birdwatchers, most of the counting happened between 10am and 4pm. This mini-blitz was much shorter than the typical 24 hour BioBlitz, but nevertheless, 385 species were found in the park!
In 2010, some notable findings were:
Brassy minnows (Hybognathus hankinsoni) in the lake. They're considered to be an at risk species in BC.
Common Fern – despite its name, it has never been recorded in the area before.
The Western Screech owl (Megascops kennicottii) – an endangered species.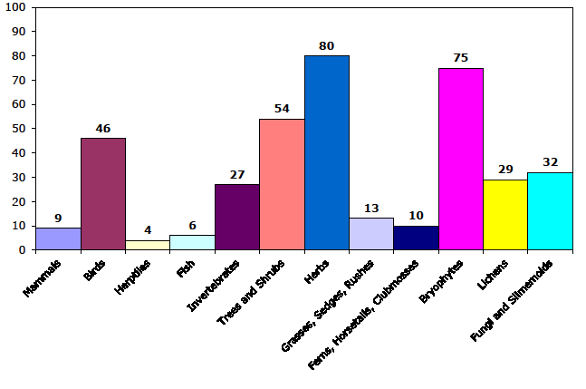 In 2010, we found 385 species at Burnaby Lake. Download a more detailed list of all findings (PDF) or click on each species category in the graph for details of those results only.